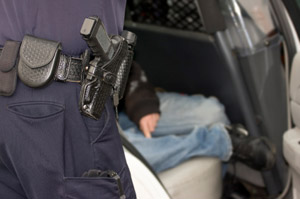 Invoke Right to Remain Silent
If you are contacted by law enforcement officers concerning a criminal investigation, you should immediately retain counsel. The officers may make it seem that you are merely a witness, or that they want to hear "your side of the story." Resist the impulse to "talk your way out" of the problem, as this will only make matters worse. Meet with an attorney first, and take the attorney's advice as to whether you should speak with law enforcement, whether you are truly just a witness, or whether you should invoke your Fifth Amendment right to remain silent. Remember, if you invoke your right to remain silent, this cannot be used against you in any prosecution. This means that the prosecution cannot mention it to the jury should your case go to trial–i.e., the jury will not be informed that officers attempted to speak with you, but that you refused citing your Fifth Amendment privilege.
Take Notes
After you are contacted by law enforcement, it will be helpful to your attorney if you make some notes about the encounter. What, exactly, did the officers say? What was the reason they gave for attempting to question you? What was the agent's name? What government agency was he or she from?
Don't Obstruct Justice or Influence Witnesses
Finally, do not in any way attempt to obstruct justice, or interfere with their investigation. If you do so, you could face prosecution for the crime of obstruction of justice, which carries serious criminal penalties, including prison time. Do not attempt to influence any witness, or suggest that witnesses should not speak with law enforcement. Do not say or do anything that could be interpreted as influencing a witness. There are many cases that get stronger when someone suspected as a crime decides to "handle things" on their own by obstructing justice. The Martha Stewart case is an example. The underlying financial investigation against her was civil in nature. However, her actions and perhaps "attitude" resulted in a prosecution for obstruction of justice and making a false statement to a federal officer.
Disclaimer: The legal information presented at this site should not be construed to be formal legal advice. Any results set forth here were dependent on the facts of that case and the results will differ from case to case. Please contact Tim Warriner, Esq. for legal advice specific to your situation. This web site is not intended to solicit clients for representation in criminal proceedings outside of the State of California, except for those matters prosecuted in U.S. Federal Courts. Tim Warriner, Esq. is a licensed California attorney. The information contained in this web site is general in nature. It is provided for informational, illustrative and advertisement purposes only. It is not legal advice. It should not be relied upon in making legal decisions or in place of a consultation with an experienced and knowledgeable attorney regarding a specific matter. Reading this site, sending us information, or receipt of information from us does not establish an attorney – client relationship. Our review of, and/or response to, your query does not mean that we are representing you or that we are your lawyers. Statements, testimonials and endorsements contained herein do not constitute a guarantee, warranty, or prediction regarding the ultimate result or outcome of your legal matter. Links from this web site to the web site of another entity does not state or imply the existence of a relationship between Tim Warriner, Esq. and that entity. A written, signed retainer agreement is a prerequisite for Tim Warriner, Esq. to represent you.