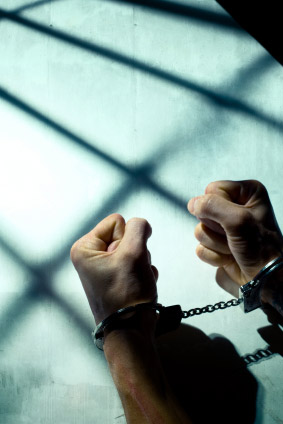 Don't Panic – Invoke Right to Remain Silent
The first thing to remember is do not panic, and most importantly, do not start to believe that you can "talk your way out" of the problem by submitting to interrogation by law enforcement officers. Invoke your right to remain silent and tell officers that you are requesting an attorney, and will not speak to them without an attorney present.
Release Arrangements – Posting Bail
In a state prosecution, bail may be arranged through a bail agent, or bail bondsman. The bail agent will charge a premium of 10 %, i.e., you will have to pay $10,000 to post bail and be released if your bail is set at $100,000. In many cases it will be best to defer bailing out until you have requested a bail reduction or own recognizance release from the court. Your attorney should be able to help you make this motion. As part of the process, you may be interviewed by a pretrial officer. You should discuss the advisability of speaking to the pretrial officer with your attorney. Although you may have to remain in custody for a few more days, you can save money on your premium by first obtaining a bail reduction. Of course, if the court releases you on your own recognizance ("OR"), you will not have to pay any bail premium.
Jail Talk is not Confidential – Don't Obstruct Justice
Be careful what you say as you await release at the jail. Remember that your telephone calls and social visits are being recorded. Do not talk about the case. Do not obstruct justice or attempt to influence a witness. Your attorney will be able to visit you in a confidential setting. Also, do not talk about your case with your cell mate or others at the jail. Inmates can act as informants, and what you say could be communicated to law enforcement.
Retain Qualified Counsel
Lastly, and impost important, retain qualified legal counsel. Talking to attorneys recommended by friends and family is a good starting point. Pay particular attention to attorneys recommended by friends/family who work in the court system, as they may be most familiar with an attorney's reputation. Also, check the State Bar website listing Board Certified Criminal Law Experts. Be aware of attorneys who will tell you what you want to hear merely to get their fee. Make sure the attorney gives you a copy of your written fee agreement, and that you are comfortable with and understand the agreement.
Disclaimer: The legal information presented at this site should not be construed to be formal legal advice. Any results set forth here were dependent on the facts of that case and the results will differ from case to case. Please contact Tim Warriner, Esq. for legal advice specific to your situation. This web site is not intended to solicit clients for representation in criminal proceedings outside of the State of California, except for those matters prosecuted in U.S. Federal Courts. Tim Warriner, Esq. is a licensed California attorney. The information contained in this web site is general in nature. It is provided for informational, illustrative and advertisement purposes only. It is not legal advice. It should not be relied upon in making legal decisions or in place of a consultation with an experienced and knowledgeable attorney regarding a specific matter. Reading this site, sending us information, or receipt of information from us does not establish an attorney – client relationship. Our review of, and/or response to, your query does not mean that we are representing you or that we are your lawyers. Statements, testimonials and endorsements contained herein do not constitute a guarantee, warranty, or prediction regarding the ultimate result or outcome of your legal matter. Links from this web site to the web site of another entity does not state or imply the existence of a relationship between Tim Warriner, Esq. and that entity. A written, signed retainer agreement is a prerequisite for Tim Warriner, Esq. to represent you.