An Effective Lawyer = Justice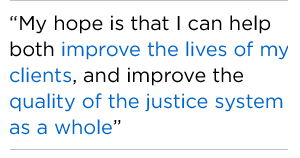 I have often thought that if each accused person in our justice system could have a truly effective lawyer on their side, how so many of the injustices we see could be avoided. Of course defense attorneys are not the only responsible actors in the system, and when injustice occurs we must often look to our opponents, the prosecutors, or the court, or even our legislative bodies who have enacted improper laws. But if every defendant in court had the best lawyer for them, someone who could effectively explain the facts and the law from each individual defendant's perspective, we could go a long way toward true justice.
My goal is simple–to provide the highest quality, effective, legal representation for my clients that I can give. The Best Defense. In cases where I cannot personally represent a client, I seek to refer persons to a lawyer that I know is qualified and who will do his or her best. My hope is that I can help both improve the lives of my clients, and improve the quality of the justice system as a whole, by serving my clients to the best of my ability.
Client Communication is Critical
My clients can count on me to give them good advice in order to help the client make the best decision possible. Persons who are accused of crimes need a lawyer that appreciates the seriousness of the client's predicament. They also need a lawyer who will give them an assessment of the case in plain, easy to understand, language—not "lawyer talk." My clients have trusted me with their lives and their future. In many cases, I have maintained relationships with my clients even after the case ends, and have helped them and their family members in other matters, or have referred them to an attorney qualified to handle other areas of law.
Combining the Knowledge of Experts
My dream has been to start a firm that brings together experts from different fields. I utilize experts from the fields of forensic psychology and psychiatry, forensic pathology, biochemistry, toxicology, sociology, and genetics. I also consult with experts in document and handwriting analysis, DNA, ballistics (firearms), computer science, and medicine. In cases where the client faces harsh immigration consequences as the result of conviction, I consult with immigration experts. My philosophy is that by applying the knowledge, experience, and creativity of these experts, justice for each individual client can be achieved.
The Importance of a Skilled Investigator
On virtually every case I utilize a qualified licensed private investigator. Over the years I have found that many of my best results have come from the work of a good investigator. The investigators I use have different areas of specialty, and I assign each investigator based upon the client's needs. Every investigator is an effective communicator, in terms of interviewing witnesses, preparing written reports, and testifying at trial.
Curriculum Vitae
Mr. Warriner is licensed to practice in the State of California, and is certified as a Criminal Law Specialist by the State Bar of California Board of Legal Specialization. He is a graduate of Santa Clara University School of Law, and the University of California Los Angeles (UCLA). He handles cases in the federal trial and appellate courts, and is admitted to the practice before the United States Supreme Court.